About Us
Texas PMW, LLC (Penn Texas)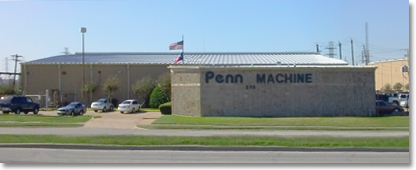 315 North Wayside Drive, Houston, TX 77020 • Phone: (713) 679-7900 • Fax: (713) 679-7920
A full service manufacturing site, located in Houston, Texas, and serving the midwest, gulf coast region and Mexico, Penn Texas manufactures forged pressure fittings, 1/8" through 6" and branch outlet connections 1/8" through 36".
Working in conjunction with Penn Machine and the US Drop Forge facilities, Penn Texas represents the height of quality control and technology. Every possible configuration of fitting can be manufactured to your exacting standards.
Specializing in forged outlet connections, swages, nipples and forged fittings, Penn Texas can produce on demand the specialty fitting for your needs. Penn Texas manufactures stainless steel fittings electropolished, thus ensuring a quality finish. PMI testing for those critical moments is also available on site.
Navigation